The "Curtailed Cop Car"
Fox met a gentleman who said he could get him a Dodge Charger Pursuit — the model reserved for police — brand new from the factory.
Knowing that shouldn't be possible, Fox called his bluff.
He was not bluffing.
Fox's hobbies suddenly got less expensive.
Since then, the Curtailed Cop Car has become a character of its own, joining Fox and Mandy in their over-the-top costumes and convention appearances.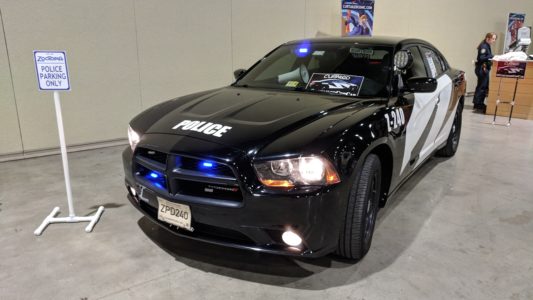 If you've taken photos with the Curtailed Cop Car, please share them with the hashtag #curtailedcopcar!
See #CurtailedCopCar on…
Curtailed Cop Car FAQ
"Are you cops?"
Nope!
"Is that legal?"
Yup!
The way we do it, anyway. Before showing the car at an event "in costume," we do a great deal of research into local laws, and a great deal of communicating with venue owners, event runners, and local law enforcement. "The cruiser" has had its internal electrical systems modified and heavily upgraded to quickly switch from "Street Legal" to "Center Stage".
If you're considering something similar, please do your own research – laws vary greatly state to state!
"Is that paint?"
The Curtailed Cop Car is solid black. The white designs and words are automotive vinyl. We designed and apply these to the car only during events.