Shop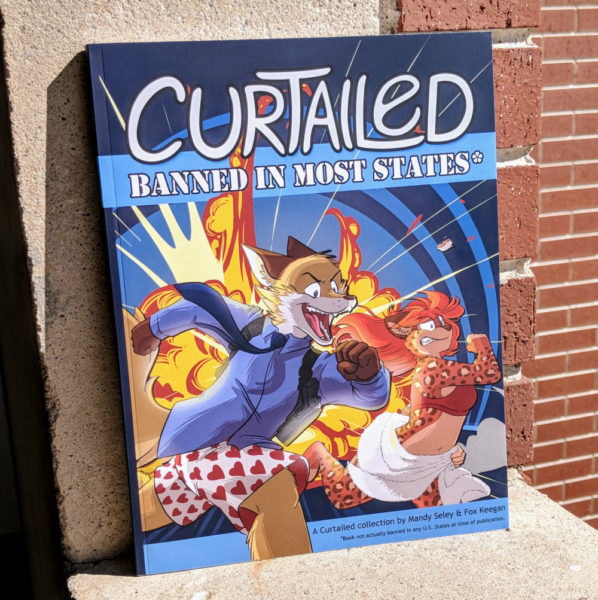 Curtailed: Banned in Most States
The first Curtailed book collection!
Paperback: $25 USD
Every copy is signed by Mandy and Fox!
If you'd like your copy made out to your name, or to a recipient's name for a gift, please include the name you'd like us to use in the text field below!
(If you'd prefer us to just sign our names, then you can leave the field blank)
This book contains the first few years of Curtailed comic strips, from 2012 to early 2016, including creator commentary for each and additional artwork scattered throughout
Bonus content!
A few never-before-seen comics and early sketches, only available in this book!
Features:
– 148 pages, black and white interior
– Creator commentary for each comic
– Bonus content: Never-before-seen strips and production sketches
– Matte finish cover (silky smooth!)
– Every copy signed by Mandy and Fox!
Shop FAQ
What payment options do you accept?
The Buy it Now button above will let you pay with a Paypal account, or any major credit card. The name on your invoice and statement will read "Seleyworks!"
How long will it take to get my book?
While most orders should ship fairly quickly, please allow up to 2 weeks for processing before your package will be shipped. We handle every book order personally, and we will make sure to contact you if there are any unforeseen delays on our end!
After that, shipping times depend on the option you select at checkout:
Priority shipping typically takes 1-3 business days for domestic orders, or 6-10 business days for international orders.
Economy shipping typically takes 2-10 business days for domestic orders, or 7-21 business days for international orders.
(We provide tracking numbers!)