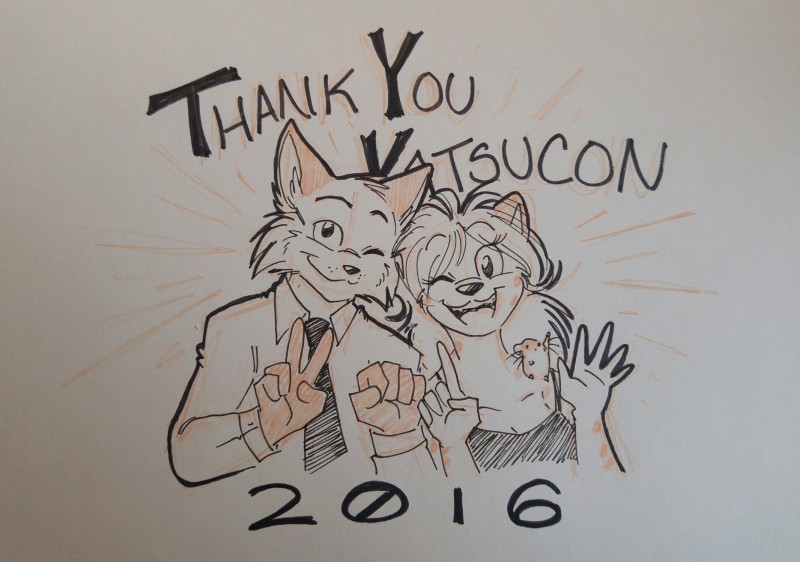 Hey all! Fox here! We're still riding the high from being at Katsucon two weeks ago! Quite possibly the most awesome thing we've done, and that's in a long line of doing some pretty awesome things! Because this was such an amazing event for us, there are a lot of fantastic people to whom we'd like to express our gratitude:
We really can't say enough wonderful things about our experience at the convention. A lot of that only happened because of a select few people. That said, we want to thank the incredible Katsucon staff for keeping things running smoothly and helping us along through our first time as convention guests! Special thanks to our liasons! (Or 'wranglers' as Fox called them!) Helping keep things on track and keeping us upright and properly hydrated! Thank you to the department heads of guest relations for inviting us and the department heads of both the charity auction and treasury for helping get a special contribution made!
Additional praise and thanks to Kit, Ireme and all the other staff at Team Medical Dragon for getting Fox back up on his feet after his body decided it'd had enough of his nonsense and demanded food! Very professional and kind group!
Thank you to the wonderful guests who also attended!
Especially Jennie Breeden of The Devil's Panties and Paul Taylor of Wapsi Square for showing us the ropes in the Merchant Hall as we scratched our heads trying to figure out what we were supposed to do with all the floor space we were granted!
Shout outs to Eirik Blackwolf of Chisuji and Mike Hall of Darkstar Studios! It was a pleasure chatting, cosplaying and getting advice from all the aforementioned guests, but hosting the 'Webcomic Round Table' with these experienced artists was probably the best experience for us, as it was giving us another opportunity to learn from them while also helping others.
But most of all, I want to express our appreciation to all of you who stopped by and either visited our panel, table or talked to us in the halls. I can't tell you how many people said they were excited to meet us and I couldn't form the words to explain it's as much of a fan moment for us as well. We enjoy that you appreciate out work, either the comic we produce, or the words of wisdom we gave at our panel. For those of you we spoke to after the panel, please reach out to us as we'd love to see what you're up to!
We had a lot of fun and a lot of excitement that weekend, and we certainly got a few comics out of it as you're already seeing! You can expect one or two more out of the story arc that was Katsucon 2016!